The History Of Marbella
A seaside travel destination for Europe's wealthy and elite, Marbella is a small Andalusian town on the Southern coast of Spain with a storied and turbulent history. Excavations in nearby Sierra Blanca and Sierra Bermeja mountains hint at Phoenician and Carthaginian peoples living amongst the densely wooded plains and later its sheltered climate attracted affluent ancient Roman settlers to the salt lakes surrounding the area. But it wasn't until Marbella fell under Islamic Rule in the eighth century that the city took its name and began to flourish. The tenth century saw Marbella fortified with a castle, moat, and a stone wall in response to aggression by a North African ruler and Arabic texts from the twelfth century indicate that the seaside settlement had grown to a population of 3,000 over the course of Islamic Rule.
In 1485, during the Reconquista, Marbella was was liberated by Christian Forces, an event commemorated each June 11th with the celebration of St. Barnabas Day. The implementation of Catholic rule saw radical changes to the city, with narrow streets widened, ancient buildings replaced by churches, convents and a city hall. Eventually even the stone wall that surrounded Marbella fell away but the castle still stands. This liberation and the establishment of a unified language (Castillian) signaled the beginning of Marbella's prosperity as the town expanded inland to plant vineyards and mine iron ore in nearby La Concepcion.
As recently as 1940, Marbella was small with a population of less than a thousand. Its popularity as a resort destination began with the establishment of the Marbella Club Hotel in 1954 when Prince Max Egon zu Hohenlohe-Langenburg's car broke down in the area and he fell in love with this seaside city's beauty. His connections with Spanish royalty quickly solidified Marbella's status as a jet setter's hot spot throughout the 20th century. Marbella's position on the Mediterranean Sea, with towering mountains to its north, provides the city with its own amazing micro-climate boasting nearly 320 days of sunshine each year and temperatures remaining pleasantly warm well into November. As such, it was an ideal destination for discreet and casual relaxation. With the influx of royal visitors and their money, Marbella quickly became a popular port for cruise ships and luxury yachts, offering golf, luxury hotels and red clay tennis, hosting the Andalucia Tennis Experience WTA tournament each year.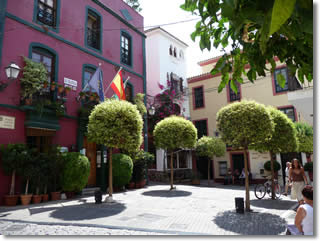 Of course no town can escape the touch of crime and Marbella is no exception. In the midst of its 20th century popularity the city's reputation was somewhat tarnished by a high profile kidnapping in 1987, which brought a media spotlight to the problems of Marbella, causing it to lose a bit of the prestige it once enjoyed. Because of this, elections in 1991 put Jesus Gil y Gil of the Independent Liberal Group in the office of mayor based on his promises to restore Marbella to its former glory through the reduction of crime and a resurgence of construction – a plan met with some resistance as it neglected the previously established urban plan for the city. His construction was shut down by the Andalusian government, and after a corruption trial, Gil y Gil was ousted and jailed in 2002.
Unrest continued to plague the city as its next mayor, Julian Munoz, was put on trial over one hundred times for corruption and eventually replaced by former secretary Marisol Yague. Both Munoz and Yague were eventually discovered to be in the control of wealthy councilman Antonio Roca and in 2006 it was revealed that the city council was nearly bankrupt. While Yague was jailed, the city was governed by mayor Tomas Renones who was also jailed for corruption. The city council was eventually dismantled and after a period of interim government, Mayoress Maria Angeles Munoz of The People's Party was elected in 2007 and as of 2011, The People's Party still holds the majority in Marbella.